Introduction
During the setup and takedown of scaffolding, and important tool that everyone involved will be using is a ratchet. The ratchet's main purpose is to tighten or loosen the couplers. This may sound like a simple function, but there are other many other considerations that need to be considered when determining which scaffold ratchet to purchase.
Important Considerations
Safety
The safety of your employees as well as the employees working around you is paramount. What is important to remember is that scaffolders work in many environments, and are often times working high above the ground.
One of the risks when working at heights is dropping tools. Dropped tools can be extremely dangerous if they hit someone below. Therefore, some basic precautions should be taken to ensure the safety of the workers around.
When it comes to scaffold ratchets, the safety of the workers around you can be solved by simply attaching the ratchet to the user. This is achieved by attaching the ratchet to a lanyard. This may sound simple, but it is not always evident. In order to be able to attach the ratchet to the user, the ratchet needs to have a hole it can be attached to. Therefore, when buying a scaffold ratchet, it is important to ensure that there is a hole or ring which can secure the ratchet to the user.
Having a method to secure the ratchet to the user can also save a lot of time. The user will at some point drop the ratchet, and if they need to climb down the scaffolding in order to retrieve it, then this time is wasted. So not only does the lanyard protect the employees working in the vicinity, but it also saves time when the user drops the ratchet.
Hammer
There will be times during the scaffold erection or dismantle process that a bit of force will be required to either tighten or loosen the coupler. A tap may also be required to move the coupler up or down in order to level the rails.
Having a ratchet with one end that is designed to be used as a hammer can significantly extend the lifespan or the ratchet. Many ratchets now come equipped with a hammer. Some are made of metal and some are made of rubber. Rubber is a softer material that will cause less damage than a metal hammer, but the force will not be as strong as a metal hammer.
Regardless of the material used to make the small hammer which is attached to the ratchet, having a hammer makes the assembly of scaffolding much easier, and increases the lifespan of the ratchet. Therefore a scaffold ratchet should be equipped with a hammer or some other striking feature.
Also See:
Ability to Work In Tight Spaces
Scaffolders work in a variety of spaces. Some are very tight, and the ratchets that are used to assemble the scaffolding need to be able to perform even in these tight spaces.
Having lots of teeth on the gear is a must because this means the ratchet will grip the bolts with a very limited space. The socket must also be deep enough that the ratchet can reach over and around other scaffolding parts.
Good Grip
Scaffolders will be working in various conditions. Having a ratchet with a good grip is crucial to ensure that the work gets done in an easy manner. The last thing you want is for employees to complain that they cannot work properly because they keep losing grip. It is important to remember that many employees should be wearing gloves, and if the grip is smooth then the ratchet will likely slip.
Which Scaffold Ratchet To Purchase
With the above criteria in mind, below are five ratchets that have been selected from Amazon;
Wright Tool 4488 1/2″ Drive Wright Grip SB Scaffold Ratchet with 7/8″ Open End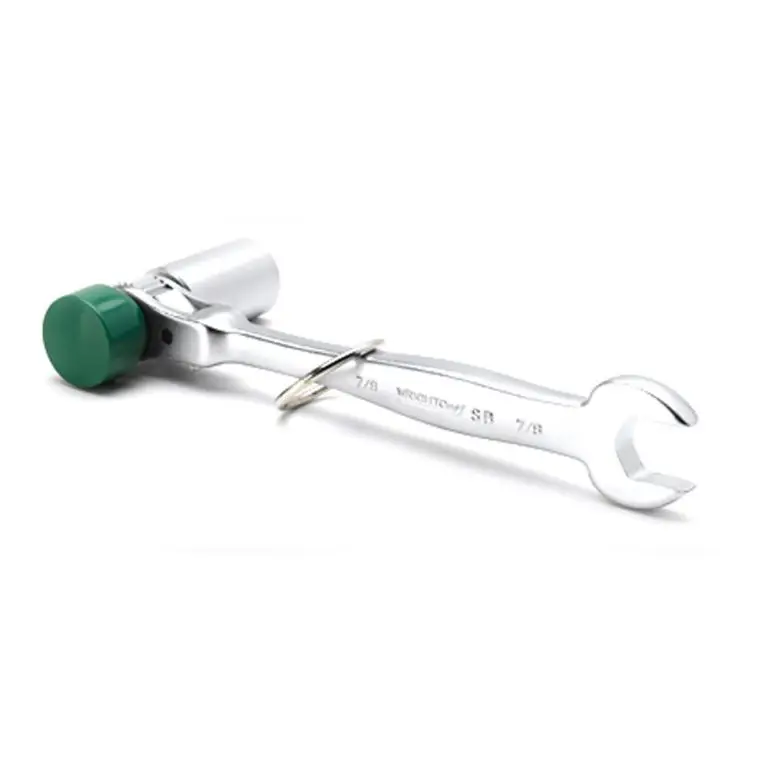 This scaffold ratchet meets many of the criteria listed above. Firstly is has a ring which can be used to attach the tool to a harness which will prevent it from falling when it is dropped.
It has a plastic hammer on one end which is useful to strike couplings and other parts into place.
A wrench is also included on one end which is useful for other parts of the scaffold setup or takedown process.
The handle is not cylindrical, which means it has a better grip and other cylindrical handles. Plus the wrench on the end acts as a "stopper" to prevent the tool from falling.
Overall, this ratchet meets all the criterias. It is more expensive than some of the other ratchets mentioned below, but you get what you pay for. In this case you will be getting a good quality tool.
Williams BS-63B Scaffolding Ratchet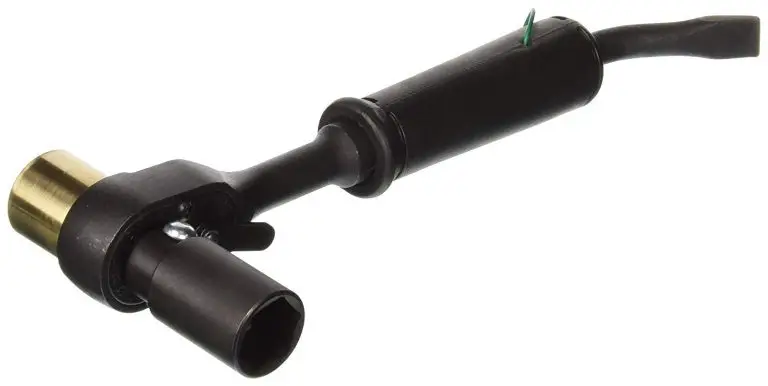 This ratchet also meets many of the criteria. It has a hammer, a 36 tooth gear, a padding grip, and a ring to attach it.
Cal-Hawk BSPRS4 Scaffold Ratchet Wrench with 7/8″ Socket 1/2″ Drive & Hammer Tip Industrial Tool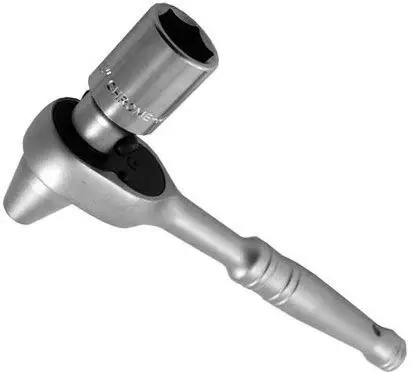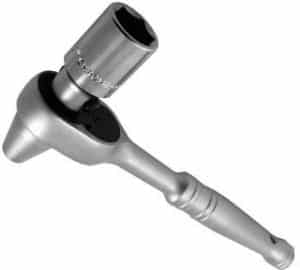 This ratchet also meets many of the criteria. It has a lanyard hole, a hammer tip, and a non-cylindrical grip.
Neiko 03029A Scaffold Ratchet Wrench, 1/2" Drive with Hammer Tip Head | 36-Tooth, Cr-V Steel, 7/8-Inch 6 Point Deep Socket
This ratchet has the pin hole to attach to a lanyard, and a hammer as well.
One of the downsides is that this only has a 6 point socket, which means it might not be as efficient when working in tight spaces.
The other downside is that the reviews have indicated that the plastic hammer tends to break fairly easily.
Conclusion
As a scaffolder, the ratchet is a crucial tool. There are many considerations to take into account when deciding which ratchet to purchase. There are a wide range of prices, and each has their own features. However a good grip, lanyard hole, and multiple teeth are some of the most important features.