When it comes to purchasing a tool belt to carry your scaffolding tools, there are a few factors to take into account. Some are related to workability, and others to comfort.
Considerations when Buying a Scaffolding Tool Belt
1. Comfort
You need to remember that you will be wearing this belt all day, and therefore you need to be comfortable. When looking at the toolbelt, you need to know based on personal preferences whether you like more or less padding. You also need to be able to adjust the belt so that it fits perfectly around your waist.
Some scaffolding belts also come with things such as "airflow" technology. These are all personal preferences that will vary from person to person. They will also vary on the weather and the number of layers you are wearing during that particular time of the season.
2. Modification
The second thing is to ensure you can modify the scaffolding toolbelt. This means having pockets that are detachable. There will be certain jobs you will be working on that will require your entire arsenal of tools. Other jobs will only require a couple of the tools. Having the ability to add or remove pockets to your toolbelt is crucial.
3. Materials
The third thing is to consider the material. The two main materials used in tool belts are leather and polyester. Both last on average for many years. Leather is normally between 8 and 13 years, and polyester is normally between 7 and 12 years.
With these recommendations, we recommend the following tool belts:
Scaffolding Tool Belts
1. Brown Leather 6PCS Tool Belt with Hammer Holder Steel Saddle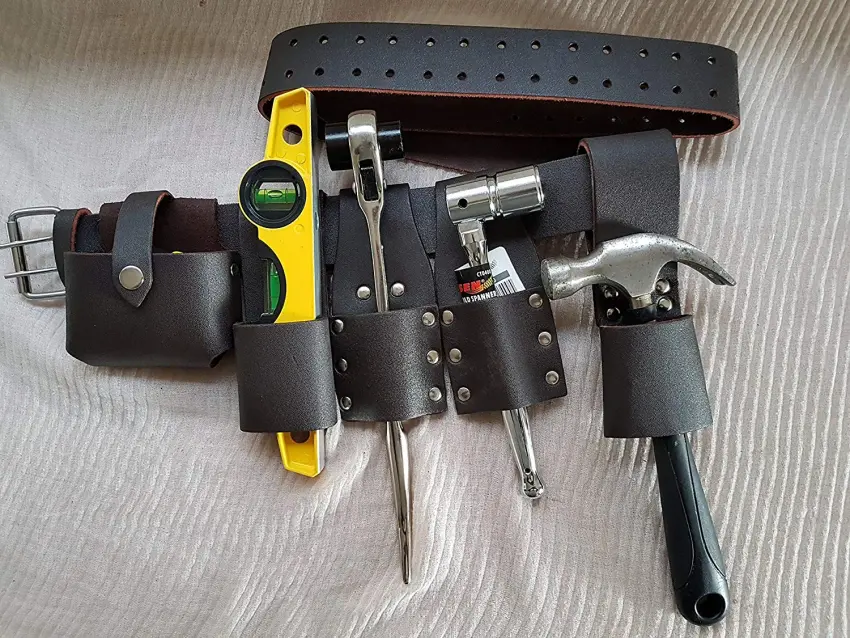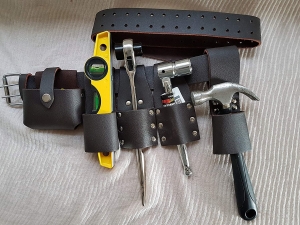 This belt has many of the above listed features. It has detachable pockets, and can be adjusted to fit any waist size between 30" and 48". It is made of leather which means it will last for many years.
2. Brown Thick Leather Tools Belt with Full Tool Set
Similar to the above example, this also has adjustable pockets, can be adjusted to fit many sizes, and is made of leather.
When it comes to purchasing tool belts, there are many different types and prices available. What is important to remember after purchasing the toolbelt is that you need to be able to attach your tools with the help of a lanyard. Regardless of the toolbelt you purchase, lanyards will be an additional purchase.
Along with the add-ons such as the lanyards, there are also other variations of tool belts available. One of them is with a back harness or suspenders. Depending on your comfort and lifting requirements, the suspenders help spread the weight of your tools to various parts of the body, including the chest.
Things to avoid
Along with the requirements of a good toolbelt, there are a couple things that should be avoided.
1. Single Prong
The first thing to avoid is a single prong. Ensuring that the belt has two prongs ensures that it remains stable and does not sag to uncomfortable angles. It also provides a safety in the event that the prong or the hole fails. The last thing you want is for all your tools to fall, potentially hurting someone below.
2. Cheaper Materials
The second is a cheaper material. You need to remember that this tool belt will support all your tools. If the toolbelt breaks, all your tools will fall. The tools should be robust enough to withstand the fall, but the inconvenience of having to carry around a bucket of tools instead of your belt will cause a decrease in production.