Boom lifts are a highly versatile aerial lift that comes in different types to suit the needs of various tasks. All varieties of boom lifts come with a few basic parts including a base, a movable arm, a platform or an attachment on the arm. As compared to other types of aerial lifts, these provide better maneuverability, and allow to reach heights up to 130 feet. They are divided into different types on the basis of three factors:
Type of boom
Attachments
Source of power
The boom type determines the height of the platform, the load that it can support, and whether it can be moved just vertically or at an angle.
Most boom lifts have a work platform attached at the arm. However, depending on the nature of the project, different attachments can be used such as lumber forks and lifting hooks.
Boom lifts can be powered by electricity, battery, or diesel. These lifts also come in a towable variety that is pulled by a vehicle to the desired location.
Although these lifts are much more flexible and reach greater heights, they are comparatively smaller and the most expensive of aerial lifts.
Types of Boom Lifts
Electric Boom Lift
Electric boom lifts are the ideal choice for indoor projects, considering the fact that they do not emit any fumes. They either use electricity or combine it with a battery to operate. Because they are basically intended for confined spaces, they come in compact sizes that can reach up between 30 and 100 feet. The height an electric lift can reach depends on the model.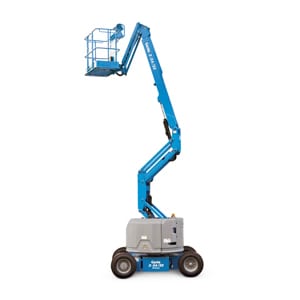 Towable Boom Lift
As the name implies, these can be pulled or towed by a vehicle such as a truck to the work location. They normally reach up to 60 feet, and are intended for projects where portability is top priority. They are either powered by electricity or diesel. Towable boom lifts are often used for outdoor jobs, and are increasingly being used instead of cherry pickers (hydraulic crane) because of the similar functions.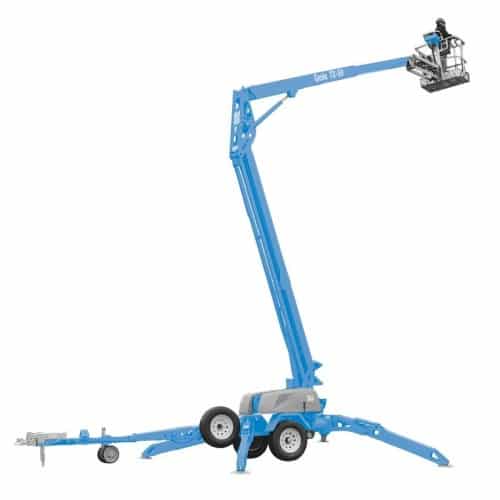 Articulating Boom Lift
This is the most common type of the boom lifts. Articulating boom lifts allow you to reach up and over hurdles for the best possible positioning. They are also referred to as knuckle lifts because of the arm's shape. The arm has several joints that allow it to bend at different angles, therefore enabling workers to get to hard to reach areas. Articulating boom lifts can reach up to 125 feet, and are commonly used for electrical piping, repairs, cleaning and maintenance activities.
Telescopic Boom Lift
Telescopic boom lifts have smaller work platforms that are intended for one-man jobs, such as tree trimming or electrical repairs. They have a higher vertical reach, and are therefore best suited for jobs with that requirement. Because these lifts feature an arm that moves in one direction only, they are referred to as stick booms. They are easier to operate and are commonly used in industrial construction. They have a wider base that allows stick booms to reach heights of up to 185 feet.
Boom Lifts for Sale/Hire
Prices depend on the type of boom lift that you require. They come in different sizes, and have various attachments to choose from. JLG, Skyjack, Genie and Niftylift are some of the most popular suppliers of boom lifts. The prices for boom lifts range between 22,500 to 210,000 dollars. Although it is expensive equipment, it is sure to last you decades, and prove extremely useful and safe in various projects. The prices might vary from one place to another, and the ones mentioned here are just to give you an idea.
If you are looking to use a boom lift for a short term, you should definitely consider hiring it as that is a much reasonable option. Boom lifts are available for rent on daily, weekly, and monthly basis. Depending on the model, expect to pay:
Between 250 to 2100 dollars daily
Between 650 to 4800 dollars weekly
Between 1900 to 9900 dollars monthly.
Rental companies have a contract that you need to sign before you hire equipment. Be sure to carefully read and understand the contract before signing it. The advantage of using a rental company is that they normally have an expert at hand who can help you out, should you face any complication in operating the equipment. Moreover, you save money on the tax and repair costs associated with a hefty purchase.