This post may contain affiliate links, we may receive a commission if you make a purchase using these links. As an Amazon Associate I earn from qualifying purchases.
Scaffolding is also known as staging, and as the name suggests, it is kind of a temporary stage or structure that aims to help people and materials move so that construction projects can be completed. It is highly important that scaffolds are strong and sturdy, because a weak scaffold can result in fatal injuries. This article is going to look into Cuplock scaffolding system, which is one of the most popular types of scaffolding systems.
Cuplock Scaffolding System
Introduction
SGB is the proud provider of the Cuplok Scaffolding System. SGB has been in operation since 1919 and specializes in commercial scaffolding services, among other services, and is one of the best and highly admired names in the industry of access services. The official name of this scaffolding system is Cuplok, but most people know it as Cuplock.
The cuplock scaffolding system is a widely used scaffolding system all over the world. Because of its unique locking mechanism, it is an easy to set up system that is fast and economical, therefore so popular. Cuplock scaffolding has been in popular use over the past three decades; it is a fully galvanized system that serves various purposes, and has been chosen by constructors and builders over and over again on some of the world's most complex projects.
The Cuplock scaffolding system is a type of modular or systems scaffolding that consists mainly of pre-engineered horizontal and vertical components that combine in a systematic manner to present its users with a temporary structure that proves highly useful in construction projects of the modern world.
Speed and simplicity saves time and money
As compared to traditional scaffolding systems, the Cuplock scaffolding system has proven itself to be the fastest of all. Because it is so easy and simple to set up, it saves a lot of time and money. This makes it a popular choice among builders and contractors who are always looking to minimize costs and save time. Compared to tube and fittings, Cuplock is known to have saved time by around 30 to 50%.
Cuplock is a flexible and adaptable scaffolding system that can be used to make a wide variety of structures which serve useful for construction, refurbishment or maintenance. These structures include facade scaffolds, birdcage structures, loading bays, curved structures, staircases, shoring structures, and mobile towers. Hop-up brackets let workers easily install work platforms at a half meter increment below or above the main deck that gives finishing trades – such as painting, flooring, plastering – flexible and easy access without disrupting the main scaffold.
Although the Cuplock scaffolding system is a heavy-duty system, it is surprisingly easy and simple to erect. It requires the least amount of wedge connectors and loose fittings. Standard horizontals are used as guardrails, transoms, and ledgers. The Cuplock scaffolding structure automatically aligns itself when the base lift is levelled. Cantilevers, staircases, and inside platforms can be easily created using components that are specially designed for the purpose.
Weight, material, and design
Cuplock tube is comparatively lighter than regular tubes, and it is palletised, which makes it easy to transport, handle, and store. Because Cuplock components are produced with 3.2 mm high grade steel, they are 20% lighter than the regular scaffolding tubes which are made of 4 mm steel. Cuplock system can be stored both on site or in the yard, and is least likely to get stolen or lost. Moreover, its galvanized surface improves resistance to corrosion – it can survive various weather conditions.
This scaffolding system is much safer to use because it offers continuous work platforms that are not obstructed from diagonal bracing. Ladder safety gates and staircases are such useful accessories of the cuplock scaffolding system that they make moving from one level to another easy and safe.
Cuplock Scaffolding for Sale/Rent
Most websites that sell Cuplock scaffolding system components ask the customer to email them or call them to get a free quote/estimate, depending on their requirement.
Cuplock ledger prices start from USD 6.65 for a 0.60 m ledger. As the size of the ledgers increase, so does the price.
Standards with spigot prices start from USD 10.79 each, and are available in sizes up to 3 m.
Cuplock board bracket prices start from USD 3.85 each, and go up to USD 21.94, varying from type to type.
Cuplock adapter prices start from USD 4.83 each.
Staircase tower packages start from as low as USD 499, and are available in different dimensions.
Every customer knows what their requirement is, depending on the nature of their project, so they can purchase the components separately. But the most cost effective method is to purchase a complete package, such as the staircase tower package – it makes the whole process simple and easy. Moreover, in most cases, you will certainly get a better deal when you buy in bulk instead of when you buy separate components. And Cuplock scaffolding system is such a versatile and flexible system that it will serve you for many years to come, so it is only in your favor to invest well in it.
There are various websites/companies where Cuplock scaffolding system components can even be rented. If you are not looking to purchase these components, then you can easily hire or rent them – for as short as a portion of a day – and complete your construction, renovation, or other project efficiently.
Installation/Locking Procedure
The distinctive node-point locking device is at the core of the Cuplock scaffolding system. Four horizontal tubes can be safely attached to the standard or vertical tube, and locked firmly in place with a single blow of hammer. Fixed lower cups are welded at half a meter intervals to the standards. Sliding upper cups drop over the ledgers' blade ends and rotate to firmly lock them into place.
There are no loose clips, wedges, or bolts involved in this procedure. Cuplock's node-point is revolutionary, and makes it faster and easier than any other scaffolding system. Furthermore, the lack of loose components makes it a robust scaffolding system, and its galvanized surface makes it almost immune to damage and corrosion. Cuplock is a zero maintenance scaffolding system, that saves time, money and energy.
Here is a video on how to install the Cuplock scaffolding system:
Components of Cuplok
Standards/Verticals
These are vertical tubes that use lower fixed cups at half a meter intervals with rotating cups on the top. These can firmly hold together up to four components. Verticals come with and without spigots, adding to the flexibility of Cuplock scaffolding system. Verticals without spigots weigh lighter than the one with spigots. Standards are made of 40 mm NB tubes and can be used for access or support. Verticals are available in these sizes: 500 mm, 1000 mm, 1500 mm, 2000 mm, 2500 mm, and 3000 mm.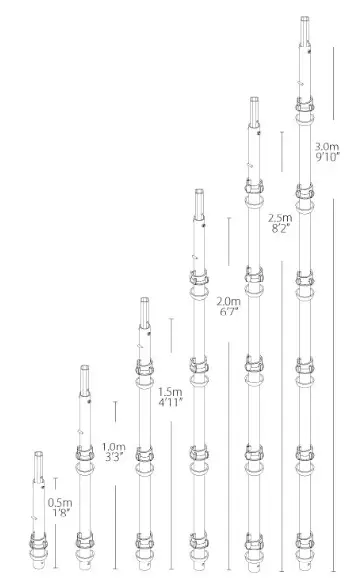 Horizontals
Cuplock horizontals include ledgers and transoms, are also made of 40 mm NB tubes, and are so robust that they require zero maintenance. Horizontal tubes have forged blade ends that allows simple and quick assembly. The blade ends of the horizontals fit into the cup of the vertical tube, ensuring a strong assembly. Normal horizontals can also serve as guard-railings in a staircase tower. Ledgers come in the following standard sizes, but they can also be customized according to your requirement: 500 mm, 1000 mm, 1250 mm, 1500 mm, 2000 mm, and 2500 mm.
Universal Jack
Universal jacks are highly durable and very efficient. The universal jack is used as an adjustment part, and can be inserted at the bottom or top of a scaffold support structure. They have an adjustment of up to half a meter, and accommodate differences in ground level, as well as to keep the structure leveled. Universal jack is used in conjunction with adapters, foreheads, and base plates. When fully supported, universal jacks can take on the entire capacity of Cuplock scaffolding system.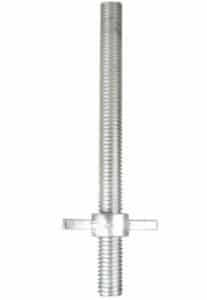 Intermediate Transoms
When standard scaffold boards need intermediate support, intermediate transoms step in. They span between the inner and outer horizontal ledgers and act as a locking device to keep them firmly in place. Each end of the intermediate transom is shaped like a jaw to prevent the ledgers from dislocation.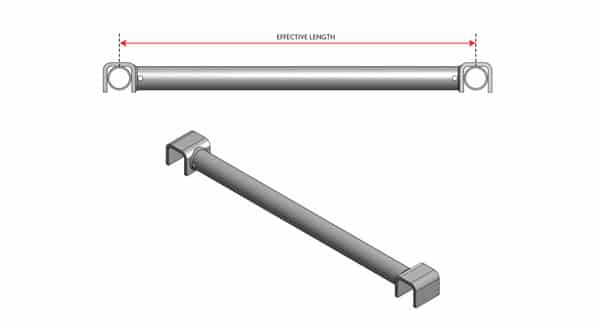 Hop up brackets
Cuplock hop up brackets are available in one-board, two-board, and three-board designs. The purpose of Cuplock hop up brackets is to support two to three boards beyond the interior of the scaffold, resulting in an increase in the span of the working platform. The outer edge of hop up brackets has a cup joint in which a ledger can be fixed; it also has a socket that serves as a handrail post support.
Other Cuplock scaffolding system components include spigot pins, inside board transoms, single board support, steel toeboard, return device, scaffold boards, handrail posts, swivel face brace, castor wheel, deck adapter, hook decks, ladder safety gates, and swan necked verticals. Each component adds to the adaptability of the Cuplock scaffolding system.
Types of structures
The Cuplock scaffolding system is so flexible and versatile that it allows a range of structures to be erected, depending on the project's requirement. It is an ideal scaffolding system for almost any and every situation, ranging from simple domestic building projects to complex support and access structures. Cuplock is also useful in industrial maintenance situations because of its ability to follow complex profiles. Now we will look at the types of structures that Cuplock scaffolding system can help to create.
Curved Structures
The horizontal tubes can be locked into the vertical tubes from almost any angle, which allows the Cuplock scaffolding system to create curved structures. The regular arrangement of transoms and ledgers requires simple variations which can help make internal or external curves in the structure. Trapezium and rectangular shaped bays are combined to create these curved structures.
Loading Bays
Loading bays require a specially strong platform that is designed so as to support bulky palletised parts. This unique platform features a flexible arm gate that goes up and over and keeps the operator at a safe distance from the edge of the platform. This flexi arm serves as a linking component between the panel and the Cuplock structure; it can be raised overhead while the temporary barrier is lowered automatically.
When the flexi arm gate raises, a safety barrier automatically lowers in front of the worker to maintain constant protection. Cuplock scaffolding system's flexibility allows workers to create narrow or wide bays, depending on the circumstances. For wider bays, simply insert scaffold tubes instead of the mesh panel, mesh brickguards and a separate toeboard to create a totally secure barrier.
Staircase Towers
Cuplock scaffolding system allows staircase towers to be erected on site to let workers move easily from level to level. These towers require stairway units that are specifically designed for this purpose, and offers workers a safe and efficient way to go up or down. Staircase towers are easy to construct, and save a lot of time and energy. Because Cuplock is such an adaptable scaffolding system, it allows upto four different options for a temporary staircase. The main structure uses the standard Cuplock scaffolding system; additional components are used, depending on the project's requirement.
Cuplock staircase towers feature wide landing platforms and guard-railings. They are rigid, offer maximum security to workers, and almost eliminate the hazards that can arise as a result of using traditional ladders. Staircase towers can be built using a four, eight, or ten leg structures.
The four leg tower structure is the fastest and most compact option. Because it requires lesser components, it is easily and quickly erected. A superior landing platform made of steel mesh can now be used instead of transom units, scaffold boards, and board bearers.
The eight leg tower structure can achieve a height of upto 38 meters, and features a broader landing platform which gives this structure a greater capacity.
The ten leg tower structure is similar to the eight leg tower, except for a couple central standards that give this structure greater rigidity and strength. As a result, the staircase tower can handle heavier loads, and can be constructed upto a height of 53 meters.