As you can see from the name, mobile scaffolding refers to a type of scaffolding system that can easily move from one spot to another. It is designed to be mobile and portable. The Aluminum mobile scaffold access tower system is set on castors or wheels to make it easy to move, and is normally used for tasks such as plastering, changing light bulbs, painting and any other overhead work. These tasks require workers to change their position quite often, and a standard scaffolding system will be difficult to use in such a case. Mobile scaffolding system allows workers to perform their tasks easily.
Aluminum mobile towers are used extensively in the building and construction industry, and provide both outdoor and indoor access solutions. Wherever a secure and stable working platform is required, mobile scaffolds serve the purpose. They are light weight, and are perfect for installation work, maintenance projects, or temporary access. A mobile access tower is extremely versatile that offers a strong and safe working platform in a variety of situations, for a variety of heights. Some examples of mobile scaffolding include mobile towers and genie lifts.
Aluminium Mobile Scaffold Access Tower System
Introduction
Moving materials can be quite a hassle in building and construction projects, especially when it comes to heights. The purpose of a mobile scaffold tower is to make this process as easy as possible by offering workers an adjustable platform that can simply go up or down. Workers can load materials such as mortar, cement, and blocks on the working platform, and when they are done, an electric motor raises the platform to the required height where another group of workers can unload all the materials off the platform. Using an aluminum mobile access tower system eliminates the need for an entire scaffolding system over the building's facade. Moreover, it expedites the movement of materials.
Types
Aluminum mobile scaffolds are available in a variety of types to suit different situations. Below is an introduction to all the various types of mobile access towers.
Scissor Type Lifts (Genie Lifts)
Genie lifts are best suited for situations where lifting capacity and work space take precedence over height. Scissor type lifts are designed with a wider platform that allows the scaffold to carry heavier loads. Most of these scaffolds allow the structure to rise vertically only; however, there are some models that allow for horizontal expansion of the deck, but only for a short distance.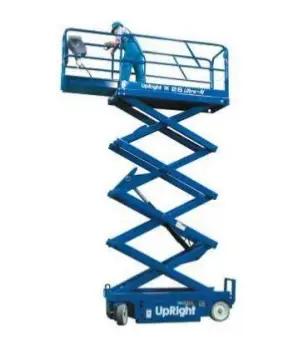 Mobile Towers
Mobile towers are an extremely safe and versatile option as compared to ladders when it comes to small residential, commercial, or general maintenance projects, such as painting. They are lightweight, and very quick to assemble and disassemble. Moreover, assembly and dismantling can be done simply without any special tools, making mobile towers an ideal choice for jobs that require just a few hours of work.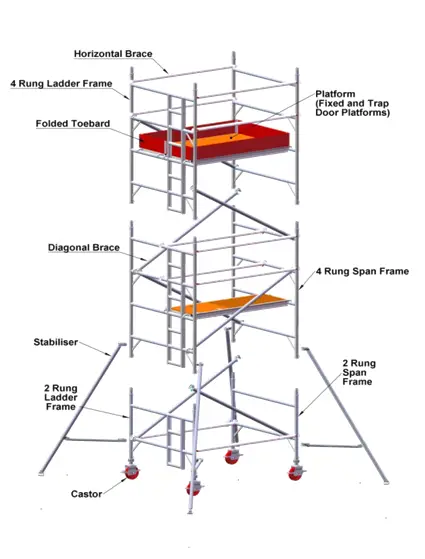 Instant Snappy
Instant snappy is a one piece versatile folding platform that is ideal for electrical, painting, and other minor projects related to construction and maintenance. It is a lightweight and compact structure that can easily be folded up for simple transportation and storage. Instant snappy is available in a variety of heights in both fiberglass and aluminum.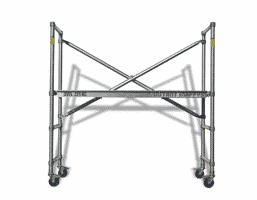 Single Width Tower
SW towers are available in a range of sizes from 1.8 to 3 meters. The height of the platform is easily adjustable. Single width towers are ideal for situations where access to a surface is difficult, such as a narrow passage, corridor, and alleys.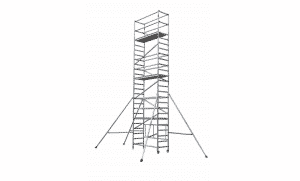 Double Width Tower
DW towers are available in a range of sizes from 1.8 to 3 meters, and the height is easily adjustable, just like the single width tower. But, as the name suggests, these mobile scaffolds offer a wider platform therefore allowing it to carry more materials or weight.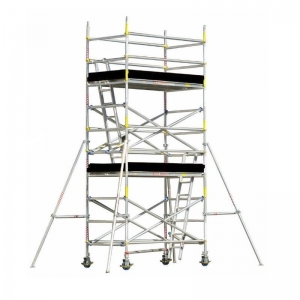 Rolling Tower
Rolling towers, like other mobile scaffolding systems, are made of aluminum and therefore very light. They are compact and portable. They offer a safe working platform for workers.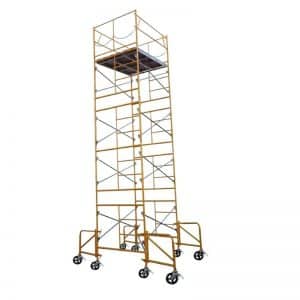 Square Tower
Square towers are also available in sizes ranging from 1.8 to 3 meters. These are ideal in situations where a wider platform is required. Projects such as sprinkler work and ceiling installation become very effortless when using a square tower.

Folda-frame Tower
The folda frame tower is a unique mobile scaffold that has the same width as a DW tower, but it has the ability to fit through confined spaces, such as a manhole. Folda frame tower is an ideal mobile scaffold in projects like boiler and tank maintenance. It can fit through a tight space and be set up once inside.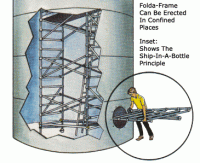 Truss Base Frame
Truss Base Frame or TBF is ideal in situations where access to a greater height is required but size of the platform is no issue. Maximum height can be achieved by using a 3 meter square base, excluding outriggers. The reduction in components improves maneuverability and easy handling.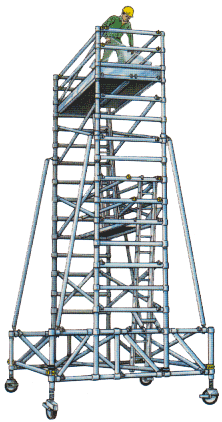 Stairway Access System
Where a ladder is not enough, the stairway access system offers the ideal solution. It is simple and fast to install, and incorporates a 2.4 or 3 meter long DW tower.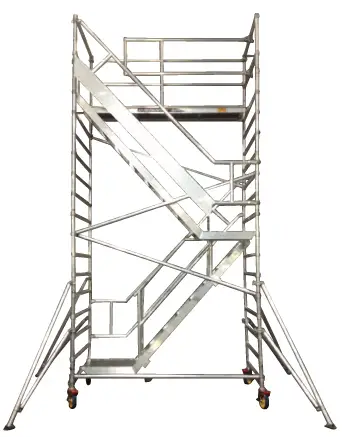 Components and sizing
Mobile scaffolding system comprises various components that are discussed below.
Stabilizer
The purpose of a stabilizer is to support the scaffold and prevent it from tipping over. It is important to use two stabilizers when working against a wall so that the mobile scaffold is stable and secure. Stabilizer lengths range from 2.3 to 10 meters. The height of a mobile scaffolding platform determines the length of stabilizer that is required.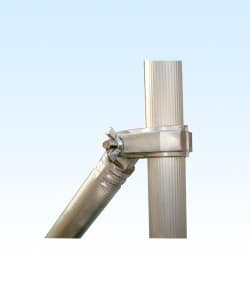 Horizontal Brace
These are positioned at the base of the scaffold. Horizontal braces also serve to guard a platform on all sides. Recommended number of horizontal braces for each level is four, and two for the base.
Diagonal Brace
These are the main parts that serve to keep the scaffold in place. For every two meters up, use four diagonal braces.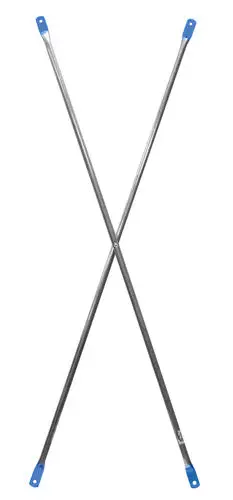 Narrow Guard-rail
As obvious from the name, these guard-rails are used in collaboration with a narrow scaffold. Narrow guard-rails are used along with the horizontal braces to protect workers from falling off the edge.
Ladder
Ladders are used with both wide and narrow aluminum mobile scaffolds. They have hooks on one end that are used to attach the ladder to the frame and keep it in place.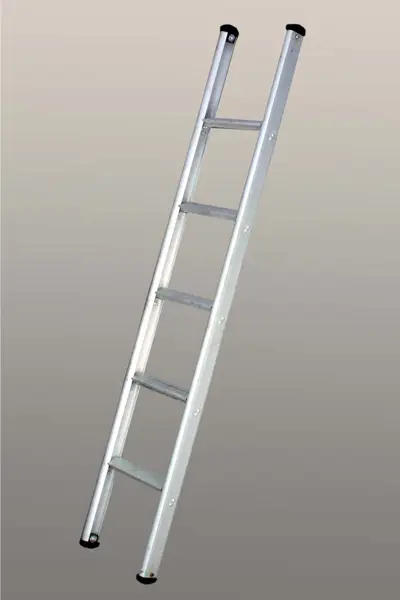 Three Rung Narrow Frame
These are used with narrow scaffolds. Narrow frames are also used to make a rolling tower. They are best suited for maintenance staging, both indoor and outdoor.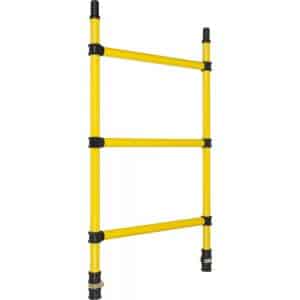 Timber Kickboards
The purpose of using kickboards is to keep materials and tools from accidentally falling off the working platform while an individual works on it. Timber kickboards are attached around the platform. A platform needs four timber kickboards to surround it on all sides. They are designed in such a way that they clamp to each other to sit properly on the platform – they cannot be used independently. Use 0.74 or 1.8 m kickboard for an H-frame foldable scaffold; 0.74, 2 or 2.5 m kickboard for a narrow scaffold; 1.3, 2 or 2.5 m kickboard for a wide scaffold.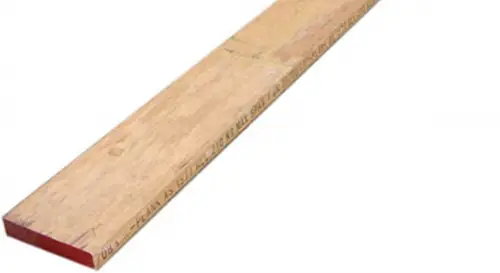 Toe Boards
These are similar to timber kickboards and prevent materials and tools from falling off the scaffold. They are attached on the edges of a platform. Their sizes range from 506 to 3200 mm, and weight ranges from 0.72 to 6.20 kg.
Castor Wheels
These are compatible with H-frame, wide and narrow scaffolds. They are adjustable upto 400 mm, which makes them really flexible in situations where the surface or ground is uneven.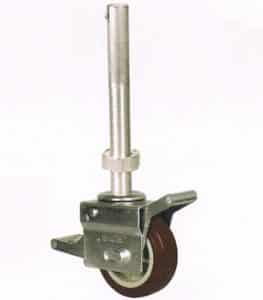 Trapdoor Platform
A platform on a mobile scaffolding system that has a built-in door is called a trapdoor platform. They provide easy access to lifts.
Installation procedure
Now that you know what a mobile scaffold is and what components it comprises, you are all set to install it.
Fix castors in the base plates.
Link the horizontal brace to the base frame's vertical tube.
Connect the other end of the brace to another base frame. Attach a second horizontal brace similarly on the other end of the base frame.
Fasten a plan brace diagonally in the base frames, and repeat with a second plan brace. This should form an X when viewed from above.
To complete the base unit, level it, and connect six diagonal braces for every two vertical meters.
To start the next stage, slide riser frames in the base frame's spigots. Keep following the pattern of diagonal braces up to the level of the working deck.
Install working platforms.
Clasp two horizontals on the transom, three rungs above the level of the working platform. Repeat for two rungs above the working platform level, and then one rung above the working platform level. This should result in a boxed in square and a triple handrail.
Repeat steps six and eight until the top working platform is created.
There must be a distance of three transoms between the top working platform and the scaffold's top.
Ensure that two diagonals are attached above the top platform.
Attach toe boards.
Insert a ladder in the scaffold so that it reaches each level and passes through the trap door.
If the height exceeds the standard, make sure to insert external wall ties.
Ensure that all the four wheels are in place.
Make sure that all the instructions on the Safety Compliance, Safe Working Guide, and Hazard Reduction stickers are followed properly.
To disassemble the mobile scaffold, simply follow the above steps in reverse that is 16 to 1.
Here is a very useful video on the procedure of installing a mobile scaffold:
Safety Precautions
To provide a safe environment for workers, it is imperative to keep the following points in mind when erecting a scaffolding system.
The ground or surface on which a mobile scaffold is erected must be strong enough to support the weight of the scaffold.
During the mobile access tower's erection, it is preferable to use a temporary guard rail brace.
The scaffold must be squared and level.
To keep the scaffold from collapsing, keep its vertical components together and to automatically align it, scaffolds must be supported by diagonal braces, cross-braces, horizontal braces, or a combination that is best-suited for the situation.
To keep the scaffold in place while it is being used, wheels and castors must be locked with swivel and wheel locks, positive wheel locks, or any other means that will ensure stability.
Wheel stems and castor stems in adjustment screws or scaffold legs must be firmly pinned or secured.
Unless outrigger frames, or other such devices, are used to ensure stability, a platform must not go beyond a scaffold's base.
Screw jacks must be used to ensure the scaffold's leveling.
A mobile scaffolding system is easy to move, which is why it is much lighter as compared to a regular scaffolding system. And this is why wind is an important factor that must be considered when working with mobile scaffolds. If wind speed exceeds 7 meters per second, stop working on the tower. If wind speed is expected to exceed even more, secure the mobile access tower to a sturdy structure. In a gale, it is best to dismantle the portable scaffolding, and put it away somewhere safe.
Snow and rainfall on a working platform will make the surface slippery so it is imperative to keep the platform clear of it to avoid harmful falls.
Lightning is another factor to keep in mind when working with aluminum mobile scaffolds. In such a weather, it is of utmost importance to not use the aluminum scaffolding tower at all, and simply fold it away somewhere safe.
Do not lean on the side guards during work.
Use the inside of the tower for climbing, and do not climb or stand on the braces, as they are designed for support only, and not for carrying load.
Moving the Mobile Scaffold
The purpose of a mobile scaffold is to improve mobility and allow workers to change their position frequently, which is why the following points must be kept in mind when moving the scaffold from one place to the next.
To keep a mobile scaffold from falling or collapsing during moving, it should be stabilized.
Before moving the mobile tower scaffold, make sure to loosen the brakes.
When moving a mobile scaffold manually, make sure to apply force as close to the base as possible.
To move the scaffold using a machine, ensure that the machine is designed exactly for that purpose.
A mobile scaffold must not be used by workers to ride in them. For utmost safety, workers and all materials must get off the scaffold when moving it.
Before the mobile scaffold is moved, each worker on it must be informed of the move.
During movement, the height of the aluminum scaffold tower must not exceed six meters.
Mobile Scaffold for Sale/Hire
Mini scaffolds are available in different sizes, with prices ranging from USD 160 to 240.
Fiberglass instant snappy prices start from USD 1000.
Rolling towers are available in different heights, with prices ranging from USD 800 to 1500.
Genie lifts, which are powered by diesel, cost around USD 20,000.
Foldable aluminum scaffolds prices range from USD 350 to 420.
Aluminum scaffolding stairway tower prices start from USD 1000.
Horizontal braces prices range between USD 20 to 50.
Narrow guard-rail prices start from USD 55.
Aluminum mobile scaffold ladder prices range from USD 160 to 400.
Narrow frame prices start from USD 85.
Timber kickboard prices range between USD 16 and 50.
Castor wheel prices range between USD 10 to 75.
Toe board prices range from USD 4 to 40.
All this mobile scaffolding equipment can be rented/hired as well if you are not open to purchasing it. Here is a look at some of its hiring costs.
Alloy access towers can be hired for around USD 40 a week.
Stairway access towers, guard rail towers, folding indoor scaffold and span access platforms can be hired for as low as USD 180 a week.
Two and four meter scaffolds can be rented for as low as USD 70 a week. Comparatively, their purchase price starts from USD 1800.
Depending on the nature of your project, you might find it feasible and affordable to just rent a mobile scaffold instead of purchasing it. As each project is unique, most companies require clients to contact them for an estimate, but the pricing mentioned above is just to give you an idea of what it might cost to purchase or hire a mobile access tower scaffold.