This post may contain affiliate links, we may receive a commission if you make a purchase using these links. As an Amazon Associate I earn from qualifying purchases.
Also commonly referred to as single man lift, a personnel lift is a compact lift for one person. Because of its size, it can fit in confined spaces, and get the job done. Single man lifts are ideal for ceiling work, specially that related to cleaning. This aerial lift can move from side to side, as well as vertically so it offers flexibility and allows you to cover a larger area. Depending on the nature of your project, you can opt for either a vertical only manlift, or one that moves horizontally as well. It is a light weight lift that is your top choice for indoor maintenance activities.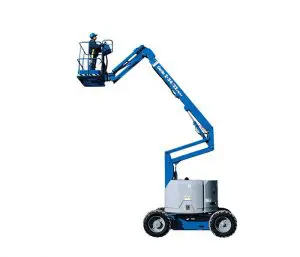 Manlift
A single man lift provides a secure and stable work platform in the areas of maintenance, construction, warehousing, and retail. Its compact design means that it can be assembled and disassembled very rapidly. Personnel lifts are available in manual and battery operated versions, and can reach a height of up to 36 feet. It is a much safer and reliable option as compared to a traditional ladder.
Personnel lifts are also known as passenger hoist, manlift, and machine hoist. They come in various sizes that have varying capacity.
Types of Manlifts
Manlifts are available in a variety of sizes and designs that are tailored specifically for different kinds of tasks. However, they are divided into two basic categories:
Slab
These manlifts are intended for indoor projects where the surface is hard and smooth. Such a surface allows for using an electric powered personnel lift that moves on thick tires.
Rough terrain
As obvious from the name, these lifts are intended for outdoor surfaces that are uneven and/or rough. They are powered by fuel such as gas or diesel.
Personnel lift for Sale/Hire
The price of this equipment depends on the manufacturer, type of lift, as well as your location. You can purchase a personnel lift if you have a running business. If you require it for a short term, then you can look into renting this equipment as it will prove to be a much flexible and money-saving option.