This post may contain affiliate links, we may receive a commission if you make a purchase using these links. As an Amazon Associate I earn from qualifying purchases.
The Ringlock scaffolding system is one of the types of modular scaffolding. It enables workers to set up, use, and disassemble a temporary work structure with speed and efficiency, therefore saving on time and labor cost. Ringlock is one of the most sophisticated and complete scaffolding systems on the market. It has been designed to keep components minimal to allow for simple set up and dismantle. A single rosette sits at the core of all components. With a built-in safety mechanism and high load capacity, the ringlock scaffolding system is a popular choice in many different kinds of applications.
Ringlock Scaffolding System
Introduction
Ringlock system is ideal for structures with complex elevations and shapes. Where angular flexibility is imperative, the ringlock scaffold always delivers. It is designed such that it requires minimal space for storage. This versatile scaffolding system is used for support and access structures in construction industry, offshore construction, industrial maintenance, and ship building.
At the heart of the scaffold is a single rosette that allows up to four braces and four horizontals to be attached to it with the simple use of a hammer. Ringlock can be used for circular, curved, or straight structures, and it can also be used for mobile and independent towers. This system lacks loose components, which makes usage, maintenance, and storage easy.
Components
Vertical Post
Vertical posts aim to give vertical support to the scaffold. And it comes in many different sizes to adapt to any structure. These can be bought with or without spigots. Vertical posts are also known as standards.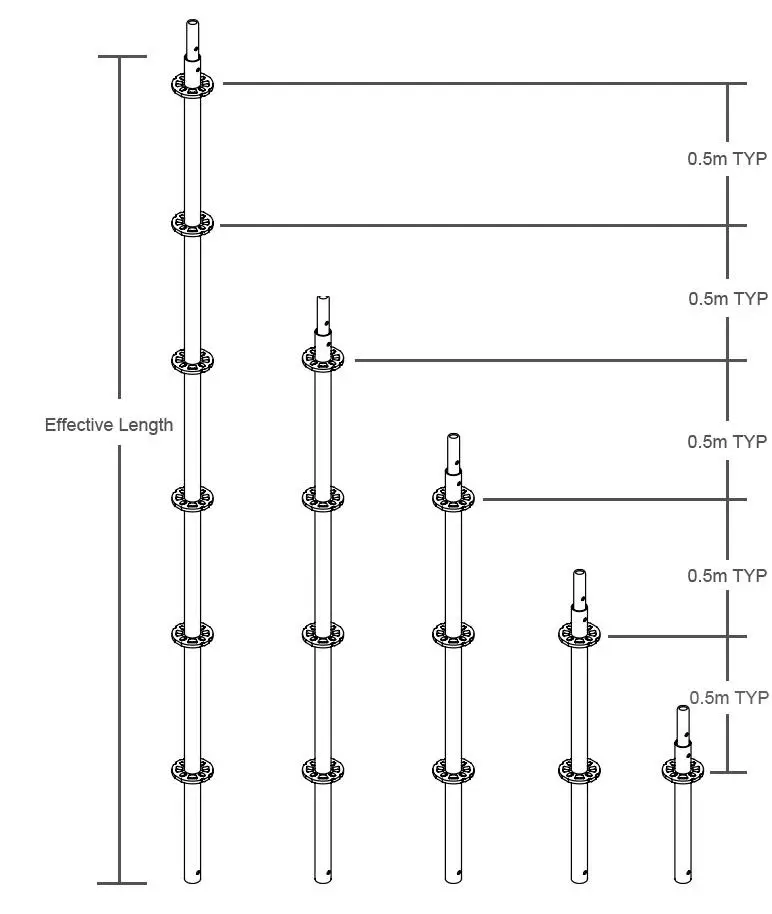 Horizontal Ledger
Horizontal ledgers aim to provide horizontal support for platforms and loads. They can also be used as guard-rails for safety purposes. These also come in a variety of sizes, to suit each situation.

Ringlock Braces
A diagonal bay brace serves to give lateral support to the scaffold. They can also be used as guard rails in stair system, or tension and compression members.


A swivel clamp brace also serves as a lateral support to the scaffold. Moreover, it can be used as an obtuse angle guard rail in stair systems.
Truss Ledgers
A truss ledger is designed to increase the strength of the scaffold and enable to hold more weight.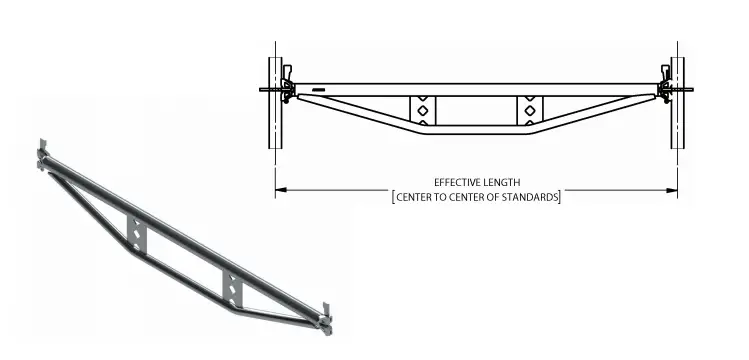 Base Products
The screw jack or base jack is the starting point of a ringlock scaffold. It is adjustable to allow for changes in height when working on an uneven surface.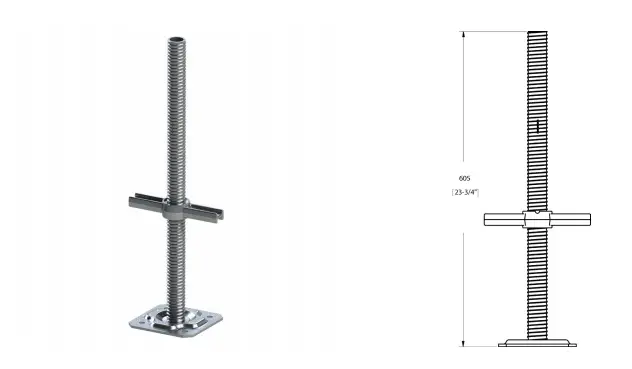 Castors are used to make scaffold towers able to roll and move from one spot to the other.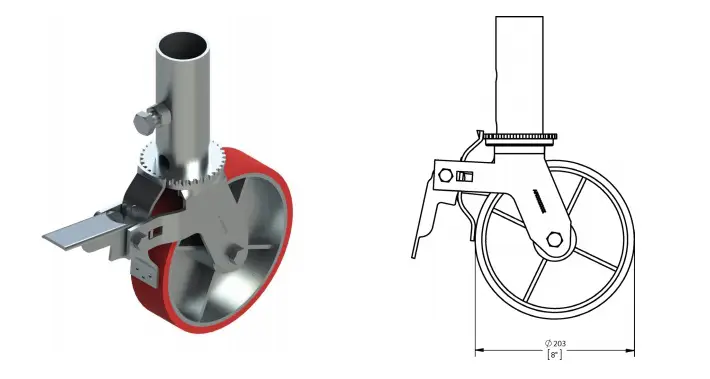 Brackets
Step down bracket serves to create a 250 mm step down, and can be attached to the kicker or base lift.
Hop up brackets serve to extend the platform so as to get closer to the structure, when it is not possible to do so with the main scaffold.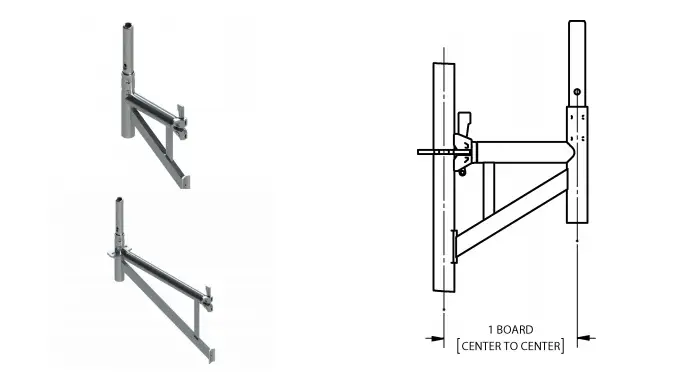 Planks
Steel planks are responsible for creating the platform on which workers actually stand. They are positioned side by side, and the amount of planks that are used determines the width of the platform.
Infill planks aim to create a link between multiple working platforms. They also prevent tools and other materials from falling off the platform.
Stair Stringers & Treads
Stair stringers serve as the diagonal parts of a ringlock stair system, and they also act as a connecting point for stair treads.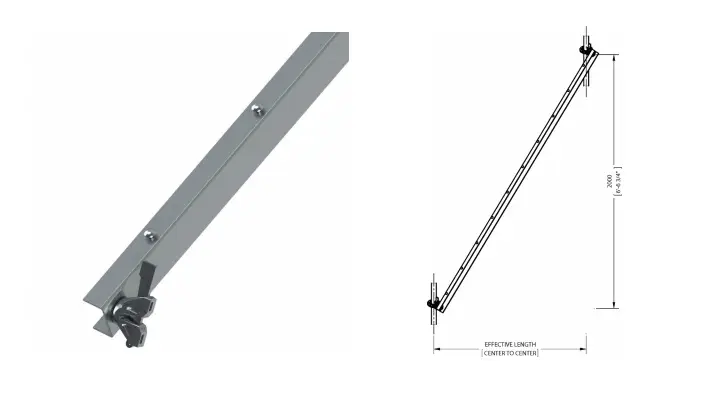 Storage Racks & Baskets
These components add to the flexibility and ease of working on a ringlock scaffold. As obvious from the name, these can be used to keep tools and other materials in one place so as to make work easier.
Other Accessories
There are a range of accessories that can be added to the ringlock scaffold to make it more accommodating, or easier to work with. Some of these include:
Rosette Clamp: this is used to add a rosette to any point on the vertical tube.
Davit Arm: this is a very useful component that can be used when lifting light loads with a gin wheel.
Spigot Adapter Clamp: allows for linking ringlock verticals at intermediate spots along truss ledgers, etc.
Swivel Adapter Clamp: this clamp can be used to attach a tube to a single rosette at various angles.
Toggle Pin: these pins lock the bottom and top vertical tubes together.
Installation
Now that you know all the major components, you are all set to install or assemble a ringlock scaffold. Here is a great video that you can watch to get a better idea of how to set it up:
Ringlock Scaffolding for Sale/Hire
Most companies, whether online or not, require their customers to contact them to get a quote for their required products. The ringlock scaffolding system can be bought as an entire package, or as separate components. It all depends on your requirement.
Should you choose not to invest in it, you can always hire or rent a ringlock scaffolding system for as long as you want.