When thinking about the tools required to install scaffolding, one of the many tools required is the one used to tighten the fitting. There are a couple types of tools that are used.
Introduction
Some of the terms that are common are the "Scaffold Wrench", "Impact Driver", and "Impact Wrench". Both of these are common, and there has been a shift over time in whether Impact Wrenches are better than Scaffold Wrenches.
Scaffold Wrench
The first thing to think about is what a scaffold wrench is. A scaffold wrench is a tool that relies on a long arm and the principle of mechanical advantage. Another term that will be commonly used is "Spanner wrench", however it is important to note that this is a common term used for "scaffold wrench" in many commonwealth countries, except for Canada.
Impact Wrench
An Impact Wrench is an electric tool that relies on an impact (or force) being applied as the mechanics inside the tool spin. This is similar to the method used by workers who press on a tool (such as a drill) with the back of their left hand to apply extra pressure.
Important Considerations: Scaffold Wrench vs Impact Wrench
There are various beliefs as to whether a scaffold wrench or impact wrench is better. One factor to take into account is the worker's health and safety.
When workers use a scaffold wrench, there is a lot of movement that is required. This movement is repeated over and over, and in the long term can cause problems to the worker.
An impact wrench on the other hand requires less movement than a scaffold wrench. However, the downside with using an impact wrench is that the worker may be exposed to vibrations caused from the tool, which over the long term can cause health problems. There are also noise problems which can also cause long term hearing damage to the employees.
In order to combat these health problems that a worker may be exposed to, it is important to train the employees on how to properly perform the movements. When it comes to the impact wrench, many of the problems can be mitigated with the help of proper PPE (Personal Protective Equipment).
Personal Protective Equipment
Gloves
Various vibration dampening gloves are available on the market today, and thus providing the employees with these gloves will significantly reduce the risk of injury.
However, it is not only important to provide employees with gloves, but also to ensure they use them. Very often, PPE is provided, but workers find that the PPE obstructs the workers ability to work efficiently, and thus they choose not to wear the PPE.
Having good communication with the workers, and ensuring they are comfortable reporting problems with the PPE will be an effective way to ensure they use proper PPE, and ask for new PPE when required.
An instance of when different PPE may be required is when the seasons change. The types of gloves used in the summer months and winter months (especially in areas where snow exists) vary significantly, and it is important to be aware of this and be aware that there may not be a one-size-fits-all solution to choosing a vibration-dampening glove.
Ear Plugs
Similar to the vibration-dampening gloves, ear plugs are a form of PPE that should be provided to employees in order to protect them. However, like any type of PPE, if the employee does not know how to properly wear the earplugs, then they could give a false sense of safety.
With all of these negative points associated with using impact wrenches during scaffolding, one important thing to note is that these dangers can be easily minimized, if proper PPE and proper training is required. Therefore, before implementing a protocol to use an impact wrench instead of a scaffold wrench, employees need to be properly trained on how to protect themselves.
Damage to Scaffold
Along with the safety considerations, it is also important to look at the scaffold itself, and the damage that can be caused to the materials when deciding whether to use a scaffold wrench of an impact wrench.
One of the major plus sides to using an impact wrench is the speed at which employees work. When an impact wrench is properly used, a worker can install scaffolding at speeds much greater than if they were to use a scaffold wrench.
However, one of the downsides of using an impact wrench is the possibility of applying too much torque. Too much torque can strip the threads, which would be even more devastating for scaffolding because of the number of times the scaffolding is set up and taken down over the course of its lifetime.
Finding one with a Variable Speed
As a consequence, when choosing an impact wrench, it is important to find one with a variable-speed that can be adjusted to get the right amount of torque.
As a general rule of thumb, about 50 Nm (37 ft lbs) need to be applied in order to tighten the nut. Therefore, if the power tool used to tighten the nut is too strong, then it can be stripped.
Battery
Another issue that some people might come across when using an impact wrench is running out of battery. This is a very real problem, however it can be mitigated if procedures are set up and followed.
If the workers charge the battery every night, rather than leaving it lying around, then there will always be a full charge. Having a second battery which is kept charged and on standby in the office or wherever workers can access will also mitigate this problem.
In conclusion, an impact wrench will speed up scaffolding installation and takedown time, provided that employees are properly training on how to use the machine, how to protect themselves from the dangers it presents, use an impact wrench which is good for the task and follow all procedures to ensure the batteries are always full.
Recommended Impact Wrenches
Makita XDT16Z 18V LXT Lithium-Ion Brushless Cordless Quick-Shift Mode 4-Speed Impact Driver, Tool Only
This Impact Driver is another great choice because of the variable speeds it offers. The four speeds allow better control of the tool to reduce the risk of over torquing.
Bosch PS41-2A 12V Max 1/4-Inch Hex Impact Driver Kit with 2 Batteries, Charger and Case, Blue
This ½" Impact Driver is a great tool because it delivers enough power, but not too much. It's maximum torque is 930 inch lbs (105 Nm). This is more than the required, but it is not as overpowering as many other impact wrenches and drivers on the market. It also comes with two batteries which is great to have.
DEWALT 20V MAX XR Impact Driver Kit, Brushless, 3-Speed, 1/4-Inch, Tool Only (DCF887B)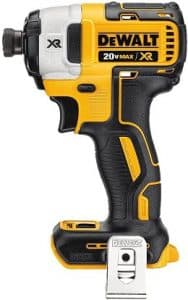 This Dewalt Impact Driver has three speeds, which can ensure you stay below it's maximum torque. Having the three speeds means you can use this tool for various other applications.
DEWALT 20V MAX Impact Driver Kit, 1/4-Inch (DCF885C1)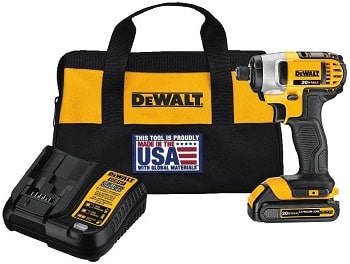 This Dewalt Impact Driver is very similar to the DCF887B above. The difference is that this model has a maximum torque which is much lower than the other model. Although the torque offered by this impact driver can go above the 50 Nm required, it is not as likely to overtorque as the DCF887B model.