A suspended scaffolding system involves a working platform that hangs from an overhead structure. These suspended scaffolds are normally supported on all four sides with ropes. However, other means can also be adopted, such as metal chains. A suspended scaffolding system is ideal in situations where tall structures are involved. It is difficult to set up a regular scaffolding system when working on a very tall structure. Moreover, it is also costly in terms of time, money, and energy. In such a case, setting up a suspended platform, such as the swing stage scaffolding, is a wise and cost-effective solution.
If you require quick and easy access to tall buildings and structures, then an electric powered suspended scaffold is just what you need. It is a flexible scaffold that can be extended from 3 feet to 72, even more if required. Moreover, it is a lightweight platform that can be suspended easily from an overhead structure. Although it is lightweight, it can carry loads of up to 1500 lbs. Speed is another important advantage of a powered swing stage scaffold – it can quickly move personnel and materials at a speed of 35 feet per minute. Furthermore, workers can use the stirrups on the edges of a swing stage scaffold for walking therefore increasing the actual length of the platform.
Suspended Scaffolding / Swing Stage Scaffolding
Introduction
Spider is the pioneer of suspended scaffolding system, and began designing and manufacturing this equipment more than six decades back. They have expanded their umbrella by manufacturing and adapting their suspended scaffolding products to suit the needs of the ever-changing market. Hence, they continue to lead the suspended scaffolding market. Spider keeps its customers satisfied by offering them both sale and rental options from 25 locations across North and South America.
The suspended scaffolding system has eight types of which an adjustable two point swing stage scaffold is the most popular. Suspension scaffold is another commonly used term for this popular scaffolding system which is a very cost-effective and flexible option in rooftop projects and industrial installation. Although this article is going to look into the different types and components of suspended scaffolding systems, it will focus primarily on swing stage scaffold.
A swing stage scaffold has cables/wires connected to hangers/stirrups on each end of its platform. These cables support the suspended scaffold. An electric motor is used to raise or lower the platform according to the requirement of the situation. Although they can be configured in various ways for different purposes, swing stage suspended scaffolds are normally employed by companies that are involved in facade restoration of high rise structures.
Types of Suspended Scaffolds
Two-point (Swing Stage)
A swing stage is the most common type of suspended scaffolds. It is suspended from an overhead structure by cables or ropes that are attached to stirrups on each side of the platform. Although it is typically employed by window washers, it plays a major role in high-rise construction. A swing stage attached to the exterior of a building is a common sight for pedestrians and drivers in an urban city.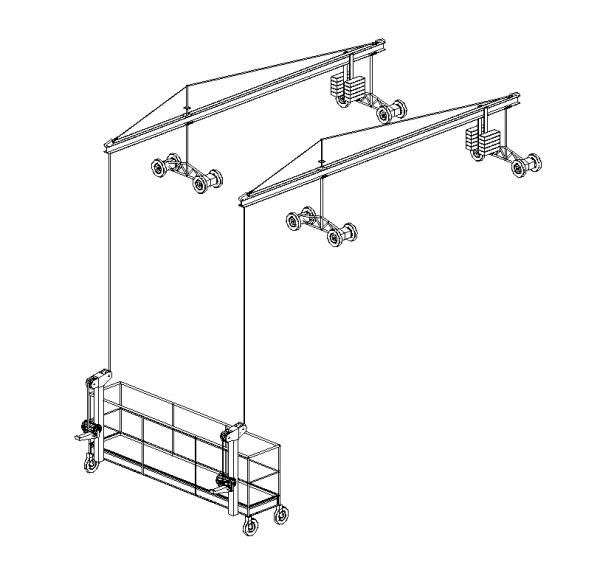 Catenary
Catenary scaffold is a type of suspended scaffold that consists of a working platform supported by two parallel and horizontal ropes. These ropes are connected to structural members of a building, such as beams and columns. Employees working on the catenary must be equipped with a personal fall-arrest system to avoid dangerous accidents.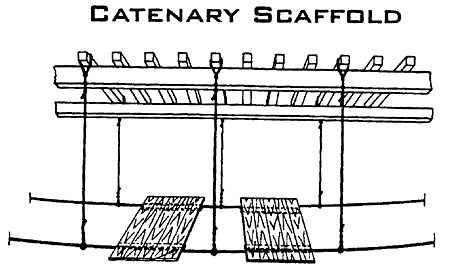 Float (ship)
A float or ship is a suspended scaffold that consists of a platform positioned on a couple parallel bearers. A ship hangs from an overhead structure with the help of fixed-length ropes. Some safety requirements must be kept in mind when working with a float: the bearers supporting a platform must extend at least six inches beyond it on either side. Employees working on the float must be equipped with a personal fall-arrest system to avoid dangerous accidents.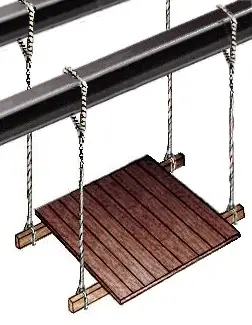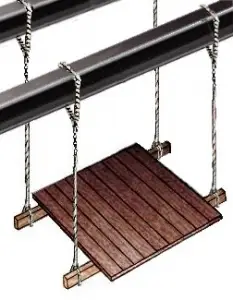 Interior Hung
These are similar to a float scaffold. The only difference is that a float hangs from a single beam or column, whereas an interior hung is suspended from two separate structural members.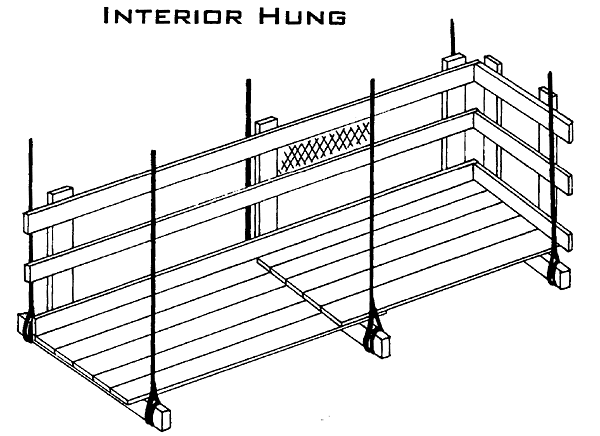 Multi-level
As obvious from its name, this kind of scaffold consists of multiple levels in the scaffold structure. Each of the platforms on each of the levels is positioned on common stirrups. This kind of scaffold is useful in terms of saving time and money. Many workers can work on different levels of a structure at the same time on the same scaffold.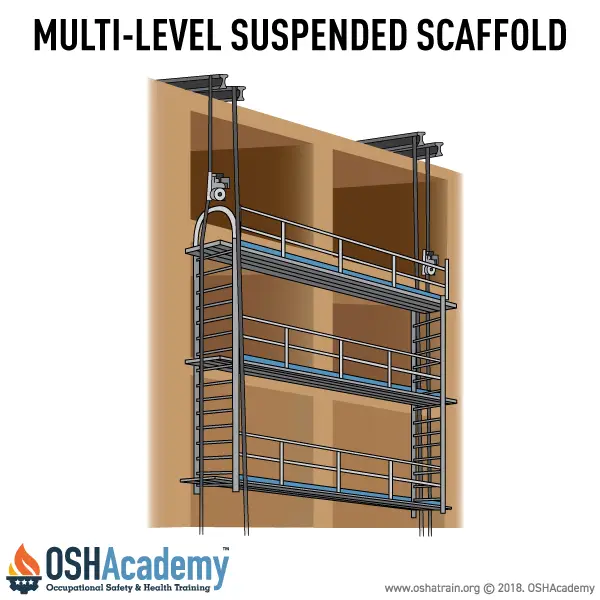 Multi-point Adjustable
This suspended scaffold consists of platform(s) that are suspended from the overhead structure at more than two points. A multi-point adjustable scaffold is equipped such that the height can be adjusted according to the requirement of the project. A few safety requirements must be kept in mind when working with a multi-point adjustable scaffold: they must be hung from hooks, metal outriggers, wire rope slings, brackets, or other durable means; two or more scaffolds must not be bridged together unless their design allows bridging; if not using bridges, platforms can be connected through bridges only if they are at the same height.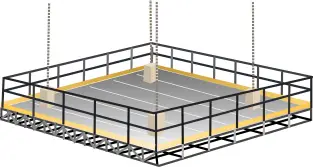 Single-point Adjustable
This kind of suspended scaffold consists of a platform that hangs from an overhead structure by just one rope. A single-point adjustable scaffold is designed so the height can be increased or decreased, as needed. These kinds of scaffolds can often be seen outside a high-rise building by workers who wash and clean windows. A common single-point adjustable scaffold is the Boatswain's Chair.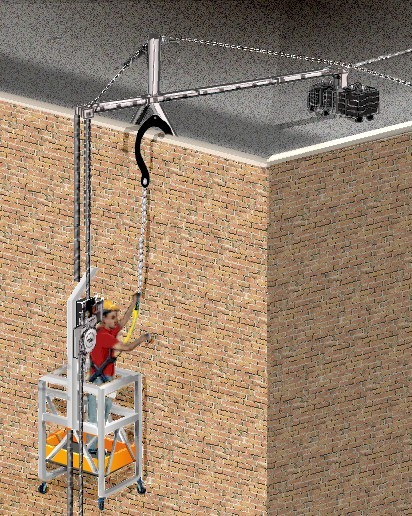 Components and Accessories of Suspended Scaffolds
Motors
The most important component of a suspended scaffolding system is a motor that helps adjust the height of the hanging working platform. There are different motors by different companies that can be employed for this purpose. When selecting a hoist, the weight of the unit itself as well as the weight of personnel and materials are important factors to keep in mind.
Tractel Tirak Hoist
Born in 1941, Tractel revolutionized the industry when it manufactured hoists, both manual and electric, which enable the use of a suspended scaffold.
Tirak hoists consist of four components: rope/cable driving mechanism, gear box, electric motor, and a secondary brake. The wire rope/cable passes completely through the machine so there is no trouble of dealing with long cables. Tirak hoists can be used for any height ranging from 30 to 1200 feet, even more if required. They are equipped with either an air-powered motor, or an electric one.
These hoists are designed to make work at great heights as safe and easy as possible. That is why they are equipped with a secondary brake. In case there is a power failure, the secondary brake can be used for controlled descent, therefore completely eliminating the dependency on and need for electrical components. Tirak hoists are designed and intended for vertical hanging rope
The primary positives of a Tirak hoist include powerful but lightweight, simple but reliable, constant speed regardless of height, and emergency descent with the provision of a mechanical emergency descent device. Moreover, they lack the hassle of lengthy cables and electricity that might result in power failure or sparks.
These are incredible motors that are sure to give you years of hassle-free and rewarding service. Tirak hoists are designed such as to allow for use with all suspended scaffolding systems, including bosun's chair, work cages, and swing stage that is the star of this article.
Sky Climber Hoist Motor
Sky Climber is a renowned company and global leader when it comes to providing amazing solutions for work-at-height. It has been manufacturing access equipment and accessories since 1955.
A suspended scaffold is complete only when it employs a hoist motor. The Sky Climber hoist is designed with minimum internal components so as to keep its maintenance as simple and easy as possible, in addition to reducing costs. Featuring a controlled descent button that is non-powered, the Sky Climber is a safe and reliable hoist that your dedicated workers deserve.
To minimize dependency on electricity or other sources of power, Sky Climber offers a strong output even if voltage is low. It has an aluminum shell that helps keep dust, dirt and moisture out. It is powerful enough to withstand tough conditions, but it is just as light. Because of its sturdy design, this is one of the best and most durable hoist motors available in the market.
Sky Climber offers both electric and air hoists. Air hoists are flexible because they can fit through confined spaces, making it easy to work on any area of a building.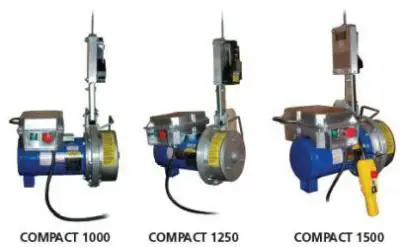 Power Climber Hoist
Power Climber is another market leader in the industry of scaffolding and access solutions. It has been in operation since 1972 and is spread over North and South America, Europe and Asia.
Power Climber offers PC1 and PC3 traction hoists that offer a reliable and affordable performance. At around 46 kgs, it is a lightweight hoist that gives excellent performance and a speed of 35 feet per minute.
It is a simple hoist for which maintenance takes less than an hour. It is such an uncomplicated; device that worker of any skill level can operate it and troubleshoot most of its problems.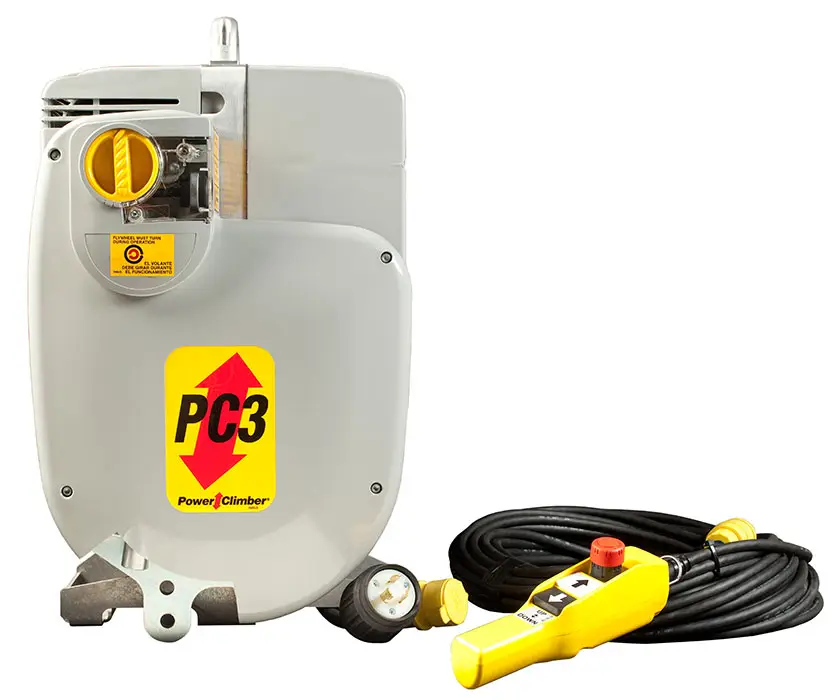 Platforms
This is an integral component of a suspended scaffold, and is offered by different companies.
Tractel Modular Platform
Swing stage modular platforms are stable and adaptable platforms that are ideal for working on high-rise structures for tasks such as window cleaning, painting, masonry, maintenance, among many others. Built of aluminum, modular platforms are strong and can easily withstand harsh conditions. Moreover, they are lightweight, making them easy to transport, store, and erect. They can be assembled in various lengths ranging from 6 feet to 59 feet. These are such versatile platforms that they allow personnel to mix and match the different sections to suit the project's needs. Swing stage modular platforms can support loads of up to 1500 lbs.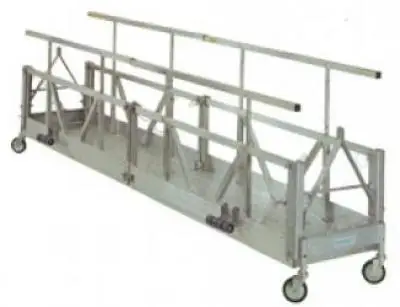 Sky Climber Sky Stage Ultra Standard Platform
Sky Stage Ultra is a modular platform of today that is a perfect combination of new concepts and present technology. This highly flexible platform allows personnel to assemble it in multiple configurations, making it easy to complete each task of a project. Sky Stage is commonly used for window cleaning, commercial restoration, sandblasting, caulking, waterproofing, off-shore oil rigs, general maintenance, and painting.
Corner Sections
Corner sections make a swing stage scaffold extremely adaptable by allowing workers to assemble their platform in various configurations.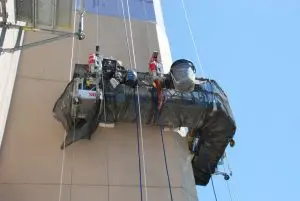 Fixed Corner Section
It is an l-shaped platform that is ideal for working on the corners of a high-rise building or structure. It is available in four angles – 30, 45, 60, and 90 degrees – and is supplied with guard rails for maximum safety. It can support a weight of up to 250 kgs, which is roughly equal to the weight of two personnel and some light working material.
Adjustable Corner Section
These are much more flexible as compared to the fixed corner sections, as they allow configuration in many different angles ranging from 20 to 90 degrees. Like the fixed corner sections, they can also support a weight of up to 25 kgs.
Work Cages
Work cages, also known as a Bosun Chair, resemble a regular cage, except there are humans inside it who engage in tasks related to construction and maintenance of high-rise structures. A work cage can normally support a weight of up to 1000 lbs. It allows access through confined spaces, and is ideal for one or two-man jobs.
Tractel and Sky Climber offer work cages resting on wheels so it is easy to transport from truck to site and back again.
Power Climber offers a collapsible work cage that can fit through an 18 inch opening. It is a light-weight cage that can be easily disassembled/collapsed without the use of any tools. That is simply incredible.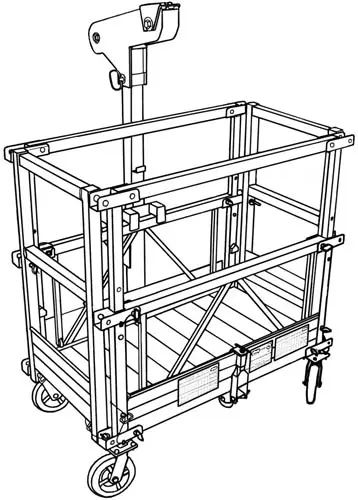 Outriggers
Without an outrigger, it is simply impossible to employ a swing stage scaffold. An outrigger is the support or suspension structure that allows a swing stage scaffold to connect to it for working with tall buildings. Outrigger is designed so sturdy that it can withstand strong winds, and also hold the weight of the personnel and equipment on the working platform.
Sky Climber Telescopic Roof Beam
This amazing outrigger beam by Sky Climber is a flexible beam that can be extended from 4300 to 5700 mm. With minimal components, it solves many rigging problems.
Other suspension solutions by Sky Climber include hooks, roof beams, and adjustable parapet clamps. Sky Climber also offers to manufacture custom suspension solutions for its customers.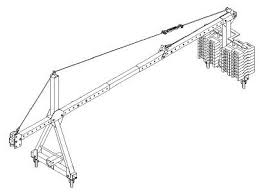 Triangular Rolling Roof Outriggers
Triangular rolling roof outriggers by Swing Staging are fixed on the roof and beams of a building, and offer great support for a swing stage scaffolding.
Tractel Portafix Suspension Beam
Portafix is a flexible suspension beam by Tractel that resembles the triangular rolling roof outrigger in appearance. It supports heavy duty construction, and allows for different beam lengths to accommodate various obstructions that might occur.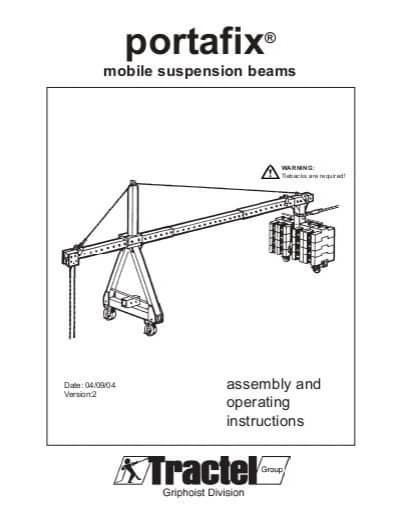 Cable Truss System
Cable Truss System by Winsafe is an outrigger solution that allows for 14 feet of reach. It can support up to a 1000 lbs.
A swing stage scaffold employs many other components and accessories, as required. Some of these include hoists forks, trash trays, hand winch, gravel buckets, debris chute, stretchable harness, rope grab, horizontal life line system, and ladder climbing system. All these accessories add to the safety of a swing stage scaffold.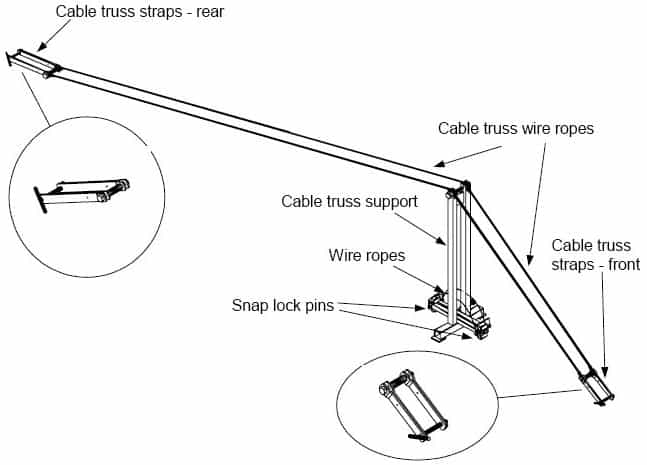 Safety Precautions
Swing stage scaffolds, and other suspended scaffolding systems, are employed at great height, which is why safety precautions are of utmost important.
Ensure that the building or structure on which a swing stage is positioned is strong enough to carry the weight of the unit itself, as well as of the personnel and materials on the platform.
Make a detailed design plan, keeping the swing stage scaffold's design specifications, limitations of the structure, wind and other such external forces in consideration.
Inspect each component prior to assembly.
Components from different manufacturers must not be mixed up with each other. Make sure to stick to one company and invest in its products and accessories related to a swing stage scaffolding system.
Restrain outrigger beams properly so as to prevent movement.
Equip workers with fall-arrest systems whenever working on a suspended scaffold.
Keep power lines in consideration when working with powered scaffolds.
Follow instructions and guidelines on manufacturer's manual or handbook.
Most importantly, make sure that all components and accessories are in perfect condition and compatible with each other. Any repaired components, such as suspension ropes, can be very dangerous to re-use when employing a swing stage scaffold.
Swing Stage Scaffold for Sale/Hire
Most companies require their customers to contact for an estimate. Swing stage scaffolding equipment is available for both sale and hire by many different suppliers. However, before investing in swing stage equipment, carefully research all the manufacturers and make a wise decision. This is because scaffolding components from different manufacturers are often not compatible with each other. So, the cost effective way is to choose one manufacturer and then invest in its products.